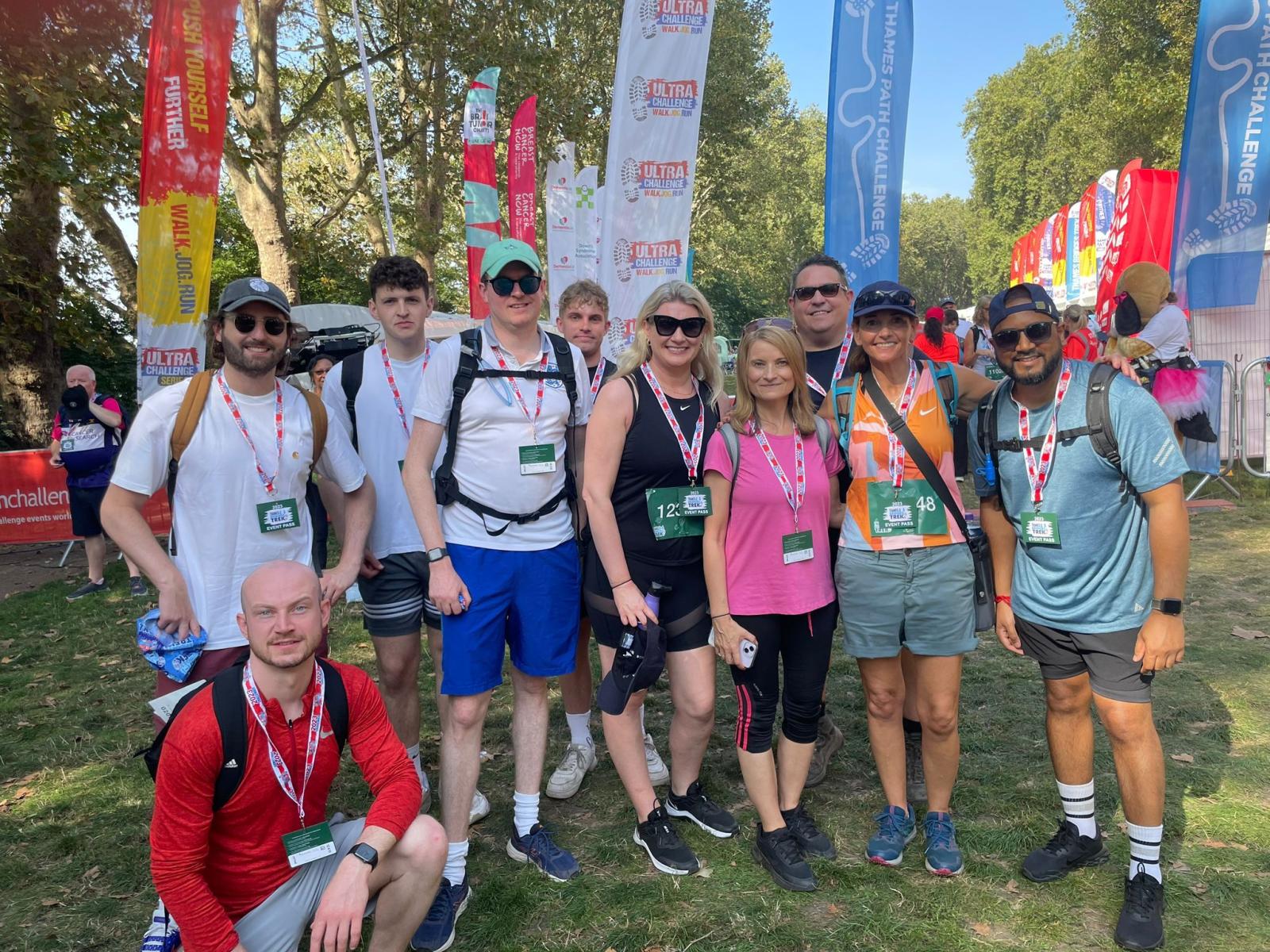 It all started with a pledge - a commitment to make a difference in the lives of those fighting cancer. Econocom and Trams|Econocom embarked on the remarkable journey called "The Working with Cancer Pledge".
The pledge is all about fostering an open, supportive, and recovery-forward culture at work for employees facing cancer. Shockingly, 50% of employees* diagnosed with cancer hesitate to share this news with their employers, fearing judgment or discrimination. The pledge says, "Enough is enough," and invites companies to stand together for a brighter, more inclusive future.
But the employees of Econocom and Trams|Econocom didn't stop there! Nope, they decided to take on a gruelling challenge to raise money for Cancer Research. Ten incredible employees, including Ben Wylie, Una McGuiness, Claire Woodcock, Hitesh Vajir, Dominic Boothman, Will Peel, Nicholas Armstrong, Matthew Lismore, Samantha Andrews, and Adrian Harrow, STEPPED UP for the Thames Bridges Trek.
Picture this: a bright and sunny day in London, where the heatwave was making its presence felt. Everyone was in great spirits at the start line when we set off at 11:30 am on Saturday, 9th September and then the temperature soared to a sweltering 32 degrees Celsius. But this intrepid group was undaunted, fuelled by their commitment to the cause and the passionate desire to make a difference.
Walking 25 kilometres through the bustling streets of London is no small feat on any day. Add the scorching sun, the everyday hustle and bustle of tourists, and you've got yourself a formidable challenge. Every step was a testament to their resilience, determination, and unwavering spirit. As the team traversed the iconic Thames Bridges, including London Bridge, Millennium Bridge and Tower Bridge, they kept reminding themselves of the reason for their walk… which was motivation enough.
"I've lost two members of my immediate family to cancer, so the cause is close to my heart." Comments Adrian Harrow, continuing "And I have seen friends receive treatment and go through gruelling chemotherapy whilst worrying about their jobs and money, which is just an added stress to an already terrible time. I'm very proud to be part of a company that has taken action towards such a disease."

Adrian Harrow | Head of Marketing 
Cancer touches us all in one way or another, and this walk was a symbolic journey of hope and unity. They weren't just crossing bridges; they were bridging gaps in cancer research, bringing us one step closer to a world where cancer is nothing but a word in the history books.
As of now, they've raised an impressive £1,400, and that's just the beginning. This money will go on to fund vital research, support cancer patients, and bring us closer to a world where cancer is no longer a deadly threat.
WELL DONE TEAM!